North Hälsingland - a strong tradition and a rich cultur heritage of swedish folk music.

Nordanstig - the community of north Hälsingland - covers the cities of Hassela, Bergsjö, Gnarp, Jättendal, Harmånger, Stocka och Strömsbruk.

Nordanstig Community web site: www.nordanstig.se.

In this area a unique tradition of folk music is to be found including a huge amount of fiddle tunes from numbers of folk musicians throughout the years.

Nordanstig's Folk Music Fiddlers (Nordanstigs Spelmanslag) was formed in 1952 and of course one of the goals was to maintain and develop this great legacy.

Today the musical leader is O'tôrgs-Kaisa Abrahamsson, a well-known musician and a composer of new folk tunes. O'tôrgs-Kaisa is also a Zorn Gold Medallist in folk music.
Other well-known folk musicians in Nordanstig's fiddlers: Lennart Eriksson (our former musical leader) and Thomas von Wachenfeldt.

In 2006 our CD Viller was released. The word "Viller" is a dialectal expression and it stands for "simply the best". Please watch our Chinese promo video at youtube.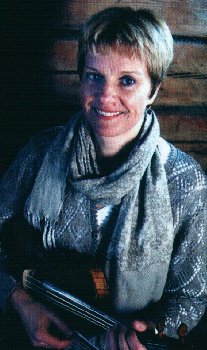 O'tôrgs-Kaisa Abrahamsson, Bergsjö.
Zorn Gold Medallist in folk music.

Kaisa on MySpace: myspace.com/otorgskaisa